New Year Round-Up: 6 Things I want to learn in 2016, and so should you!
Happy New year!
Well...
I know I'm a little late
, it's well into January, but I've just finished up all of my projects and custom orders from December. So to me, it finally really feels like the new year has just begun! With a new year, of course, comes resolutions, goals, and aspirations. Mine always seem to revolve around business, crafting, and most importantly... learning. There's nothing more self gratifying than learning a new technique or lesson, because it helps you grow and have the ability to share what you've learned with others.
Last year was a very busy year for me outside of crafting, but I did manage to learn a couple new things! I learned how to
crochet cables
of all sizes and styles, and I finally overcame my fear of
broomstick lace
. (I began broomstick lace by learning how to make a scarf from this
amazing video tutorial from b.hooked
) Now I need to break my addiction from those techniques (but they're really fun!), and I'm very eager to jump into learning some new things.
This is my personal list of goals for 2016. If you already know how to do these things,
I admire you!
1.
Have you ever been in the craft department to buy a new crochet hook, and see those crazy long hooks with the nub or ball on the end? Even better... Have you seen the hooks with double ends? Have you asked, "What on earth are those for?!" Answer:
Tunisian Crochet
!
I am still quite bothered by the fact that I have not learned how to do this yet!
Tunisian Crochet is often called
Afghan Crochet
. You got it, because it's often used in afghans. But... it can also be used to make just about anything else that you could crochet. It's a sort of knit and crochet technique combined, where you "cast on" stitches to the hook. This is why that ball or nub is on the end of the hook, so that the stitches don't fall off! You work back and forth in rows, basically pulling yarn through the loops. That's all I can tell you, because I haven't done it yet!!! On the other hand, there's the double ended Tunisian crochet hook; which is for working in rounds and using 2 strands of yarn. Why do I want to learn this technique? Because I feel obligated to (
with blogging about crochet and stuff!
), and; I want to make beautiful things using the afghan stitch, knit stitch, and entrelac to name a few!
2.
Ah, pretty lace, beautiful elegant elaborate
Hairpin Lace!
All of the blogs and tutorials I've visited and viewed say it's easy...
but it's not easy if you don't have a hairpin lace loom!
Step 1: find and purchase a loom! It looks like this:
So once you have a loom (
and a crochet hook of course
), you can begin. So from what I can gather, what happens next is; you wrap the yarn around the sides of the hairpin lace loom to create loops which are held together in the center with normal crochet stitches. Then, the entire piece is removed from the loom and you have these un-worked loops hanging off the sides. This is where some magic happens and you weave the ends together as one separate piece or join them to another piece.
It still looks pretty scary to me, but I'm sure it's one of those things that if I actually have a loom and try it, I will love it! (Like I love Broomstick Lace!)
3.
People say that if you can crochet, then you can
Knit
, and vice versa.
Ha ha ha ha ha... ha ha
. Not I, says this crocheter! I tried to knit one time. My mother tried to show me when I was a kid. I started making a scarf, and I thought it was all going well, until my scarf kept getting bigger and bigger, and the tension got all weird, and I quit. But I caught on to crochet quickly and have been hooked ever since. But just maybe I wasn't ready for knitting at that time. I liked crocheting too much, that the desire to knit kind of faded away into nothing. But now, several (MANY) years later, I feel ready! It may be because when I spend hours every week looking for crochet patterns to post to my blog, I often run into knitting patterns that I absolutely adore! And also, when people send me messages that they want me to crochet something for them, and then they send me a knit photo or pattern because they don't know the difference.
Oh, but I do!
Cove Hat by Jo Storie
There really are just some things that look better knitted. I admit it. And it hurts. But I am going to take the bull by its horns this year and learn to knit! I swear by it! I have all of the needles, gadgets, and accessories, I have no excuse.
4. Tatting.
I actually just heard of this about 4 years ago and was quite intrigued. I really do not know much about it at all! But I do know, that you use a small gadget called a "shuttle" to create some pretty sophisticated looking lace! I actually came across this while I was looking at crochet masks on Etsy one day. If you follow my patterns at
Firene Designs
, you will be familiar with my crochet mask patterns. When I'm writing or have an idea for a pattern, I do a search, to see if it's already been done. When I finished Sugar Skull, I did just that, and during my search I came across the most amazing masks! They were done by tatting, and I made a note to self to learn how to do this!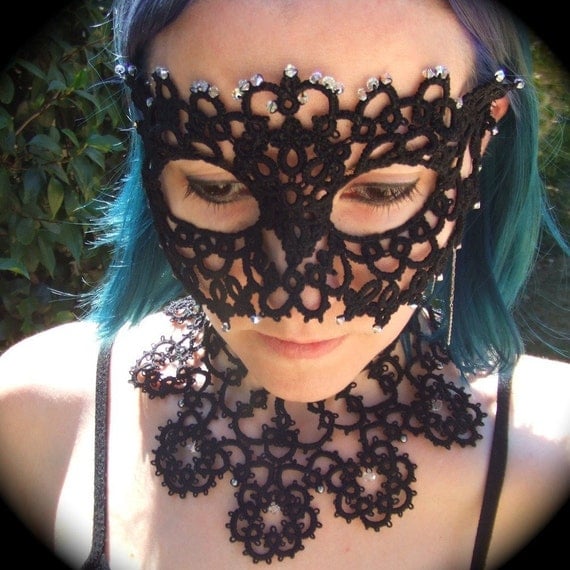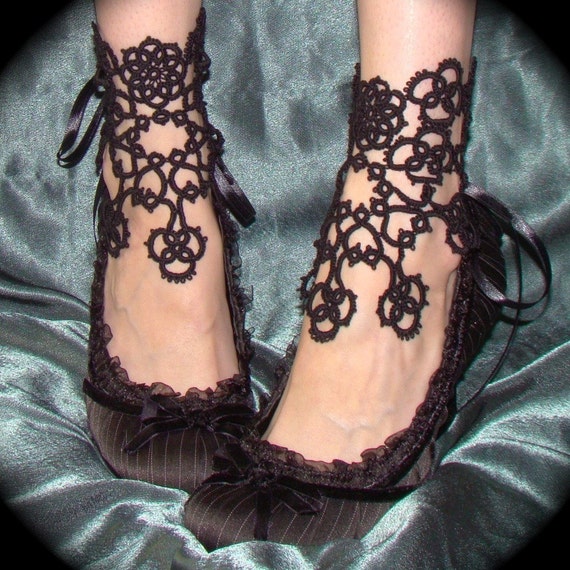 Funny story. So I set out to find a tatting shuttle one day. I live in a rural area outside of a small city. So all I have for craft stores is basically Michaels Craft Store, and a hand full of specialty yarn stores. So I went to Michaels in hopes to find a shuttle. I'm walking around aimlessly, looking lost, when an employee approaches me and asks me if I need help. I state that I am looking for a tatting shuttle. The employee looks at me like I have two heads, and states that Michaels does not sell tattooing supplies. I think she thought that I was pretty dumb at that moment... so I told her about "tatting" with a shuttle and thread, it's not common!! We both had a good laugh. But no, no tatting shuttles at Michaels. So I stared at and ogled the yarn section for two hours and went home.
(With several bags full of yarn)
So it may seem, a shuttle could be a difficult thing to find (in my neck of the woods anyway). I think I'm going to have to purchase one online.
5
. It's knitting with a hook! It's called
Knooking!
Maybe I'm going overboard here, with wanting to learn to knit this year, so this is something that I may wait to learn after I master knitting. I had never heard of this, until honestly, about three months ago. It's an entirely new concept, that uses a special crochet hook to make knitted fabric.
Apparently you attach a cord through the hole at the end of the hook. You slide the stitches down off of the hook and onto the cord, and work into them again for the next row. Honestly, I am still confused. That's why I feel that I need to learn this, it's bugging me!
6.
Now this is something that I've always wanted to learn to do properly.
Yarn Dyeing
sounds like so much fun! I have heard that it's a lot of work, and can get pretty messy (
maybe I will try this when my 4 year old is not home!
) I used to sell crochet stuff at an amazing farmer's market a few year's ago. The only reason that I'm not there now, is that I moved away! However, there was a
vendor
there, an awesome crafty lady who spun, and hand dyed her own yarns. She also knitted, crocheted, and weaved beautiful items. I think she also made jewelry! A Jill of all trades. Anyway, her yarns are what got me, she had a great eye for color, they were eye catching and quite beautiful!
Paulette's Yarn (Argentic Creations)
Now I don't have my own wool to spin, and I'm not really wanting to spin yarn. And spinning wheels are really expensive! But I do want to get my hands on some raw fibers so that I can dye them!
Along with yarn dyeing,
hand painting yarn
is something of interest as well. If I have time, maybe... that could be 7 things to learn this year :)
Have you done any of those things listed above? I'd love to hear from you! If you're interested in writing a guest post about any of those techniques, shoot me a message! Any time... this year.
And Happy New Year!