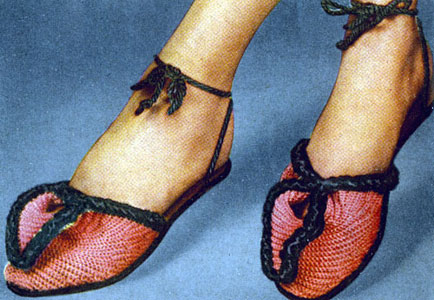 Here's a blast from the past today, to be specific, 1953! These beauties caught me eye right away, they are elegant and simple, well the crochet part anyway... this pattern calls for the use of a sole. I think if I make this, I might try the sole from some cheap flip flops or an insole. But the design for these are pretty, and the materials needed are sitting in my yarn bag:)
Published in:
Crochet Gifts and Bazaar Novelties 1953
Skill Level:
Intermediate
Materials:
D-M-C Pearl Cotton, Art. 116D, Size 5: 2 balls Peach No. 352 (A) or any desired D-M-C color and 2 balls Black No. 310 (B); 1 pair suitable Soles; small, medium or large as required; Steel Crochet Hook, Size 8.